Convergent Procedure: A Total Solution
The atrial fibrillation (AF) population is growing
The Convergent Procedure offers a solution combining the best of Surgical and Catheter techniques for treating chronic AF types.
From 2005 to 2050 it is estimated that patients suffering AF in the United States will grow from 5 million to 16 million. This increase is largely due to an aging population.
AF has often been thought of as a benign disease. It is not! Current estimates indicate that AF is responsible for up to 25% of all strokes, or 140,000 strokes annually. AF has an associated mortality rate of 4.5% per year.
More recently, AF has been described as a degenerative disease that may be associated with cardiac dysfunction and early heart failure.
Current AF treatments have limited success. Current guidelines stress symptomatic treatment of Atrial Fibrillation only.
Rate and rhythm drugs
The first line of treatment for AF is rate or rhythm control drugs. Rate control drugs are not an AF treatment because they slow the rate of the ventricle but leave the patient in AF. They are intended to alleviate symptoms and do not address the primary risks of stroke and death associated with AF. Rhythm drugs can temporarily return the patient to sinus rhythm, but side effects often limit a patient's time on these drugs. Additionally, it is estimated that 75% of AF patients become refractory to anti-arrhythmic drugs within five years.
Surgical and catheter ablations/pulmonary vein isolation (PVI) techniques for paroxysmal patients.
The 'Gold-standard' for the surgical treatment of Atrial Fibrillation, commonly called a Cox-maze Procedure, requires an invasive procedure that requires stopping the heart and bypass. This technically challenging procedure is not often performed, but does offer good success. The Cox-Maze procedure makes bi-atrial lesions through Pulmonary Vein Isolation (PVI) and right-sided lesions on the heart to prevent commonly occurring, post-operative arrhythmias. Recent data suggests that pulmonary vein isolation (PVI) alone (often referred to as a 'mini-maze') is applicable to less than 1% of the AF population and has some of the same drawbacks as the full maze procedure. Therefore, a pattern based on the Cox-maze procedure addresses the requirement for a bi-atrial lesion set and the Convergent Procedure is based on this lesion set.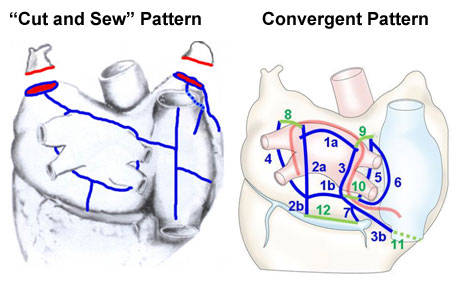 Catheter Ablation offers a minimally invasive way to treat Atrial Fibrillation by way of PVI and right-sided lesions or PVI alone, but has a variable success rate for first procedures and has a high 're-do' rate. There are also some significant, though infrequent, risks to structures outside of the heart intrinsic to catheter ablation that arise from the endovascular nature of the technique. However, there is only one device approved in the US for the treatment of Atrial Fibrillation and it is for Catheter Ablation. Additionally, Catheter Ablation and the associated mapping technologies offer the means to positively identify sites of origin for Atrial Fibrillation.
Significant confusion exists about the efficacy of PVI procedures, regardless of how it is performed. There is a lack of standard reporting methods, and many studies confound results by using various definitions of success. These include patients who continue to use anti-arrhythmic drugs, and patients that have been frequently electrically cardioverted post-operatively.
Catheter based outcomes often include repeat procedures as a definition of success.
Results with isolated PVI are obscured by the reporting of results and outcomes using a combination of therapies. Results for isolated PVI are significantly lower than reported when considered in the absence of combination therapies.
The Convergent Procedure is a treatment solution for patients with all types of AF that do not need concomitant repair
Modeled after "cut & sew" maze
The Convergent Procedure is intended to replicate the Cox-Maze surgical procedure, which is recognized as the gold-standard for the treatment of all types of AF. The "cut and sew' maze is a comprehensive, bi-atrial pattern that has an overall reported efficacy rate of approximately 75% at two years. The cut and sew maze, however, is a complicated and highly invasive procedure performed on a stopped heart during open cardiac surgery.
Potential Advantages of the Convergent Procedure versus the Cox-Maze
Performed on the inside and the outside of a beating heart, without bypass
Treatment metrics can be established since the heart continues beating and the electrical activity is uninterrupted
Intra-operative metrics may suggest improved long-term outcomes
A truly minimally invasive procedure. There is no intrusion into the chest cavity
Potential for shorter hospital stays and faster recovery